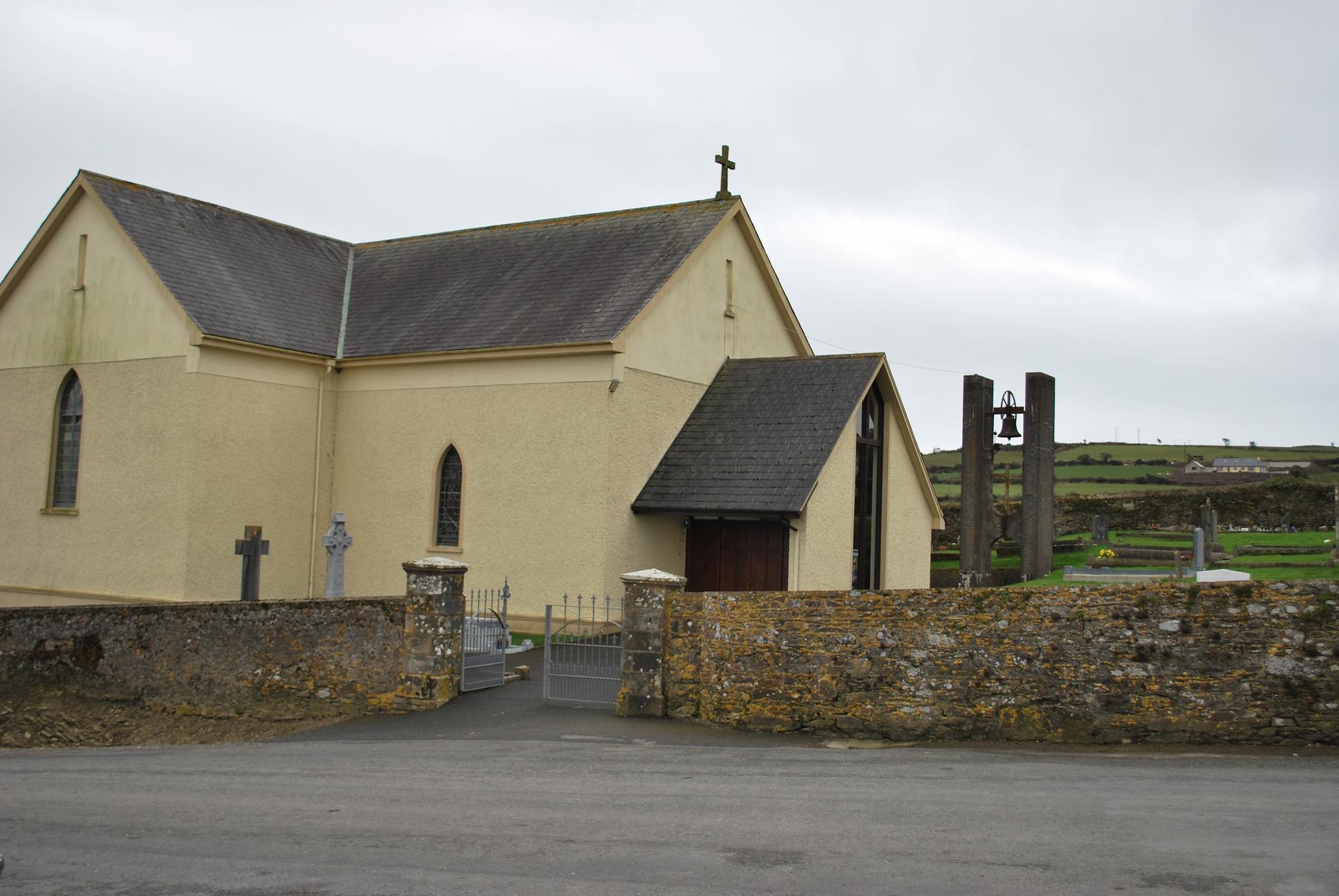 Séipéal Naomh Nioclás – An Rinn
Tógadh seipéal San Nioclás i bhfoirm croise sa bhlian 1841 agus is do Naomh Nioclás Myra atá an séipéal toirbirthe. Thimpeall an ama sa bhí an-borradh tagtha ar thógáil séipéil,- de bhárr fuascailt na gCaitliceach in 1829. Roimhe sa, ós na meán aoiseanna i leith gur leagadh é ag fórsaí Chromaill i lár na seachtú aoise déag seachtú aois déag is thíos sa sean reilig a bhí suiomh an chéad séipéil Chaitliceach sa Rinn. Tá de ádh orainn go bhfuil creatlach an fhoirgnimh fós ina sheasamh, agus pleananna idir lámhaibh é a chaomhnú agus a dhainghniú.
Idir an dá linn de réir deallramh is treasna an bhothair ón sean reilig sa Mhóta a bhí suiomh séipéal de dhéantús adhmaid, agus in ann atá chomh maith a bhfuil fágtha de Thobar Naomh Niocláis.
Tá an Séipéal San Nioclás lonaithe i mbaile fearann an Charraigín sa Rinn mar a bhfuil súil a choiméad aige ar an chuid is mó de'n bparóiste mór thimpeall, ar chuan Dhúngarbhán agus an-chuid de dhúthaigh Déise chomh maith. Tá suíomh de thrí ceathrú acra fé'n séipéal agus an reilig a ghabhann leis agus tá agus a h-aghaidh dírithe i dtreo an oithir mar is gnáthaí. Tá thimpeall 3700 troig ceárnach achar spáis san fhoirgnimh ar fad agus ionad suí do suas le trí chéad duine. Stíl Gotach a bhí sa dearadh tosaigh, ach athraíodh sa ar na dóirse nuair a deineadh ath-chóiriú ins na caogaidí. Tá sampla breá de fhuinneog ghloine daite le feiscint an falla cúl an t-seipéil leis an scribhinn "Déaglán Pádraig na nGael na Déise ag Déaglán go bráth". De réir staire mar is eol dúinn ansa, dob é Déaglán a thug an Chríostaíocht ar dtúis go dtí an taobh sa tíre, agus nach raibh gá go dtiocfhadh Naomh Pádraig chomh fada aneas dá thoradh san.
Ta de bhua ag Séipéal San Nioclás de bhárr an suíomh agus dearadh na tógála go bhfuil, ní h-amháin radharcanna áluinne, ach níos tábhachtaí ionad adhradh ina bhfuil mothúchán an-speisialta, gan trácht ar cumas fuaime iontach a tugtar fé ndeara go háirithe nuair a bhíonn cór nó ceol sa láthair.
Thar na mblianta ath-cóiríodh an séipéal cúpla babhta,- agus an ceann is túisce cuimhne don gcuid is mó againn ba ea ins na caogaidí. Cuireadh díon nua, baineadh an clog buailte anuas de dhíon an tSéipeil, íslíodh an síleál, cuireadh áltóir nua marmar, agus athraíodh na dóirse. Ins na seachtaidí cuireadh úrlár nua stroighin maraon le tíleanna plaisteach, in áit na sean tileanna tiubha dearga stroghin a bhí leagtha anuas ar an gcré. Tógadh túr nua don chlog bhuailte ar chúl an tseipéil, agus cuireadh ráille nua marmar mór thimpeall an sanctóir in ionad an ráille adhmad a bhí ann leis na mblianta. Solátharaíodh teas láirneach ins na seachtaidí chomh maith- rud a chur go mór le compórd na h-áite do lucht cheiliúrtha.
Deineadh ath-chóiriú iomlán ar an dtaobh istigh de'n fhoirgnimhl ins na h-ochtaidí. Baineadh an mairtaol den gcuid uachtarach de's na fallaí istigh agus deineadh ath chóiriú ar an chloch lomtha sa tslí gur thug mothú an-nadúrtha chomh maith le samhlaíocht níos mó spáis. Baineadh amach na h-áiléirí, an áltóir marmar agus ráille marmar agus ina n-áit cuireadh dearadh an-nua aimsearacha a raibh in oiriúint do pharóiste cois mara. Cuireadh áltóir adhmaid lámhdhéanta i lár bhaill sa sanctóir oscailte maraon le suíochán agus léachtóir adhmaid lamh-dhéanta. Ath-cóiríodh agus cuireadh díon nua ar an póirse agus chrochadh an Chros Céasta a bhí roimhe sa sanctóir,- san fhuinneog amhail mhór ar cúl sa phóirse. Ath cóiríodh an sacriste agus soláthraíodh uisce reatha agus leithreas.
Tar eis na h-oibre go léir ta séipéal againn sa Rinn a bhfuilimíd go léir an bhródúil go deo as, agus go mbíonn cuairteóirí an-tógtha leis chomh maith
Bhí gantannas spáis ag reilig an tséipéil, agus de bhárr an cinnedh,- taillte an t-sean reilige a mhéadú ins na h-ochtaidí, tá ionad adhlacadh fairsing ar fáil anois, a fhreastalóidh ar muinntir na h-áite ar feadh na na mblianta fada.
Méadaíodh agus marcáladh cárr chlós an tSéipéil ag deireadh na naochaidí agus chabraigh sa go mór le láimhseál na tráchta agus le sábháltacht na ndaoine a bhí á n-úsáid.
St. Nicholas' Church – An Rinn
St. Nicholas' Church which dedicated to St. Nicholas of Myra, was built in the form of a cross in the year 1841. Church building in Ireland had increased dramatically post Catholic Emancipation in 1829, and the delay in this building undertaking is probably explained by high demand on stone masons at the time. The original Catholic church building in the parish which dates back to the middle ages, was destroyed by the Cromwellian forces in the middle of the seventeenth century. We are very fortunate that the remains of the original structure are still intact, and in fact current plans are in train to strengthen and conserve it as it has a preservation order placed on it. In the intervening years it appears a Church constructed of wood was situated atAn Móta across the road from the original Church site and here alsoto this day are the remains of St. Nicholas'Well.
The church is situated in an Carraigín townsland in An Rinn, and because of its location can keep an eye on most of the parish, Dungarvan Bay and indeed most of the Deise countryside. The church is built on a site consisting three quarters of an acre, and has an eastern aspect as is the common norm. The approximate area of the building is three thousand and seven hundred square feet and it has a seating capacity of three hundred or so. The architecture is mainly Gothic style however when major renovations took place in the late fifties, the door openings were altered to modern standards. All the stain glass windows remain as were and the large rear gable window is of particular interest because of its theme and workmanship. The inscription at the base of the window reads "Deaglan Pádraig na nGael, na Déise ag Deaglán go bráth". Because of folklore it is widely accepted that St. Declan was instrumental in bringing Christianity to the Deise region, and by so doing obviated the need for St. Patrick to perform this exercise.
Because of its location and architectural style St. Nicholas's Church affords not only wonderful views, but also a very special environment for adoration and meditation, not to mention the wonderful acoustics that can be appreciated during church musical and choral renditions.
The church has had a number of renovations over the years, and the earliest one to mind for most of us happened in the fifties. The roof was totally replaced, ceiling lowered, the belfry was removed from the roof, a new marble alter was installed and as earlier stated the doors were altered as are today. In the seventies a concrete floor finished with tiles replaced the old red tiles placed on clay. An independent belfry was erected towards the rear of the church, a marble sanctuary railing replaced the existing timber one, and central heating was installed which enhanced the comfort of participants.
In the eighties a complete overhaul of the church interior was undertaken. The concrete plaster was removed from the upper part of the walls to within two feet of the ceiling all round, and this revealed the original building stones used. The exposed stones were pointed and sealed and this exercise gave an impression of greater space within the building. The two galleries, marble alter and marble sanctuary railings were removed and were replaced by an entire new modern sanctuary design. A specially commissioned large modern art hand painting adorns the sanctuary wall, and of which the main concept and theme are becoming a coastal fishing parish.
The alter lectern, and seat are all uniquely handmade from ash timber and compliment the main design. The porch was re-roofed and a large window at the rear affords good lighting and also houses the large timber cross, which was hereto fore hanging on the sanctuary wall. The sacristy was renovated throughout and running water and toilet facilities were afforded.
As a result of this major renovation undertaking we in An Rinn now have a church of which we are justly proud of, and one that has also been the subject of many complimentary comments from visitors
The adjacent graveyard was becoming congested at this time, and it was decided to acquire extra land at the more suitable site of the original church or as we locally call the "Old Graveyard". The burial facilities available now should suffice for many years to come.
The parking facilities at the church were extended and suitably marked during the late nineties, and has contributed greatly to traffic management, and also to the safety of those who use it.